38%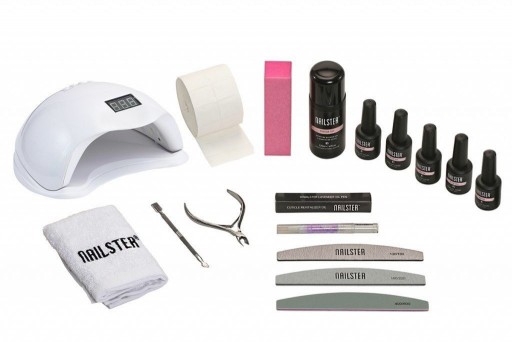 Dieses Paket enthält die besten Basisprodukte und Werkzeuge sowie unsere Pro UV/LED-Lampe (48 W), mit denen Sie unglaublich schöne Ergebnisse erzielen.
Based on more than 600 opinions
Bei Fragen können Sie sich jederzeit gerne an uns wenden.
Zufriedenheitsgarantie
365 Tage volles Rückgaberecht
Der Versand ist bei Bestellungen ab €69 immer kostenlos.
Zufriedenheitsgarantie 365 Tage volles Rückgaberecht
Preisvergleich Bestpreise auf dem Markt
Nächster Versand nach Deutschland: hours
More information
Do you have a thing for beautiful, long-lasting and durable gel polish nails? And do you dream of being able to make them at home? Fortunately, there's a solution. And it's called Nailster. At Nailster you can dive into an amazing gel nail polish universe, where you will find everything you need to create beautiful nail treatments at home.
Gel nail polish and shellac are hugely popular, but unfortunately gel nail polish treatments in nail salons are usually also rather expensive. At Nailster, we'd like to change that, and that's why we offer you effective at-home gel nail polish treatments at amazing prices. With our Nailster Professional Gel Nail Polish Starter Kit, you can get started on at-home gel nail polish treatments and, in addition to the necessary equipment and accessories, the Professional Kit also includes dotting tools and brush sets that enable you to create more advanced nail art.
Take your nail game to new heights with our Professional starter kit
With our Nailster Professional Gel Polish Kit, you get all the necessary equipment – and more. We've taken special care in curating the contents of our Professional kit, and that means that you get extras such as more foil packs and wipes as well as a bonus base coat and nail file. But this bundle also includes exclusive accessories that our basic and essential kits don't have.
Such as our 7-sided buffer, cuticle oil, primer, cleanser and especially dotting tools and brushes for creating more advanced nail art. So there is plenty of opportunity to get creative with unique and fun gel polish designs with our Nailster Professional Starter kit.
All our starter kits include a comprehensive step-by-step guide to applying Nailster gel polish. We guide you through the process from start to finish, so you get the absolute best result with our gel polish. If you still have questions about our instructions, products or anything else about Nailster, you are more than welcome to contact us. Our Nailster team is here to advise you so that your nail game can reach new heights.
Get started with our Nailster Professional Starter Kit
Whether you are looking for a gel polish starter kit for yourself or someone you love, you've come to the right place. At Nailster, we make it possible for beginners and more experienced nail enthusiasts to create seductive and beautiful gel polish nails at home. Whether you want a basic kit to help you get started with at-home gel polish, or a more advanced kit, we've got you covered.
Once you've found the perfect kit, the next step is to dive into our colourful and vibrant universe of gel polishes. Just remember to always purchase the nail polish shades separately, as they are not included in our starter kit. That's because we want to leave it up to the individual to decide which shades should adorn their fingernails or toenails. But there's one thing we can guarantee: You will find a treasure trove of stunning shades, from the deep and dark to the bright, bold and striking. The choice is yours!
And if you suddenly need extra accessories? No worries! At Nailster, you can buy extra accessories and equipment starting from £4 and up. Which means that it's fast and easy to get your hands on new nail files, foil packs, wipes, nail polish remover, brushes and much more – whenever you need them. At Nailster, we make it possible to get professional gel polish nails at prices that almost everyone can afford.
What is included in
Starter kit
Professional
Here you have listed all the products that our kit contains.
Filter by funcionality to see how to use each product for.
Products separately total:
€216,00
Starter kit Professional:
€134,00
€216,00
Buy everything you need with this startkit and save money
LEITFADEN
IHR LEITFADEN FÜR SCHÖNE NÄGEL
01.
Bereiten Sie Ihre Nägel vor: Waschen Sie die Hände, entfernen Sie Schmutz, schieben Sie die Nagelhaut zurück, entfernen Sie abgestorbene Haut am Rand der Nagelhaut, verwenden Sie den Buffer auf der Nagelplatte, um sie zu mattieren und Ölschichten zu entfernen, wischen Sie mit fusselfreien Pads, um alle Ölrückstände zu entfernen, tragen Sie abschließend einen Primer auf und lassen Sie ihn an der Luft trocknen
02.
Tragen Sie den Basecoat auf und lassen Sie ihn in der UV-Lampe 60 Sekunden lang trocknen. Dann müssen Sie nur noch Ihre Lieblingsfarbe auftragen!
03.
Nachdem Sie Ihre Lieblingsfarbe aufgetragen haben, trocknen Sie den Nagellack mit unserer UV-Lampe für 60 Sekunden..
04.
Veredeln Sie Ihre Nägel mit einem Überlack, und Sie können Ihre Nägel vor und nach der Anwendung der UV-Lampe eventuell mit Nailart verzieren.
Bevorzugen Sie nur das Nötigste?
Sehen Sie sich unser Starterkit Premium an, das die grundlegenden Produkte enthält, die Sie für den Start benötigen.
Siehe Produkte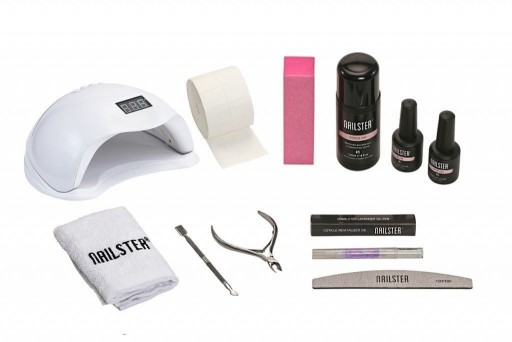 Inspiration
Lassen Sie sich von den vielen Kunden von nailster's inspirieren.